Dear Curt,
458 days ago I was waiting in line at the cart for a hoagie on Commonwealth when to my utter shock
you
turned around in front of me and said "hi." I was speechless. There were no cameras on you but you were nice anyway. I couldn't think of much to say at that moment, so I followed you for 18 blocks. When you threw the butt end of your dog away, I thought you might want it for later so I fished it out of the sewage drain with my wedding ring and the wire in my bra cup. I've been trying to give it back to you all this time. It's hidden in a special place (my vagina). I've tried everything. I've slept in my car outside your house, gone through your trash, your mail. I even rang the doorbell once but
Shonda shot me in the face with Gerhig's paintball gun.
Anyway, I have a question.
What suggestions do you have for a young girl who's trying to get into the "mistress game?"
I don't want to be a homewrecker but I also know how important it is for players to be able to "focus" an hour before 1st pitch. So many "Shondas" are really busy with charitable events, community obligations, that they neglect their men on game days. I want to be the fan that helps us secure the wildcard.
I'm there for any Sox player. How can I help Curt?
-justagirlinboston, Boston (617.555.3838)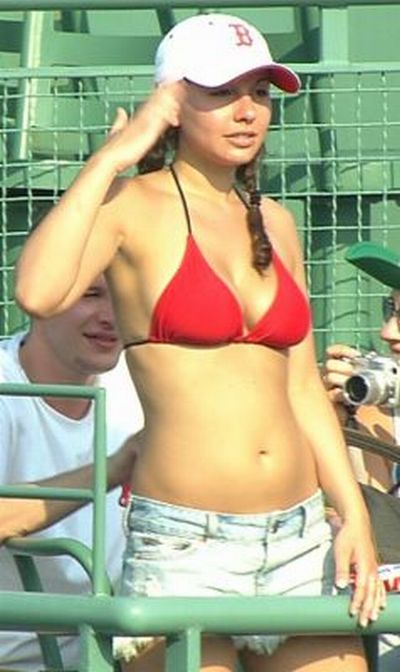 Dear Tracy,
Well I knew it was inevitable that you'd find me here.
Ever since Dear Curt, was on SI.com and
Peter's Red Sox Forever
the word is out. That's okay too. 38Pitches fanatics are welcome here. Just so we're clear, my lawyers (and Dr. Morgan) want me to state that I did not say, "hi" that day. There was a bug on your face and I said "fly." As to your question well that's a tough one…
Many, many players in the clubhouse have "fun time" right before a game. All players claim to arrive at the ballpark early for their work at 11 am for a 7:05 1st pitch. Stretches, drills, ice baths, etc... this stuff takes time. Only problem is, the players' parking is empty until 6:45. Clubhouse is a ghost town all day, save the bat boys and Coco. Most players recognize the virtue of visiting the Park Plaza during a game day afternoon. It's fun and important stretch work.
However, most girls take it too far.
They want tickets, .406 seats, piles of cash or old bloodied socks in return. Don't ask for these. Players need to focus. This kind of thinking only gets in the way of seeing Ray's pitching. Indisputable evidence of this can be seen in Juliana Ramirez's new rules for pre-game activities. Tracy, having sex with someone you're not married to is wrong and a sin. Some players need it and I understand that; I embrace that. Got 3 rings cuz of that. However, I always advise young players to avoid too much cheating and start off your career right by marrying someone
really hot
like I did.
Back to your question. Tracy, a man's fun zone is like a video game joystick. There's a hard shaft for gripping and a red "button" on the top when you're ready to shoot. Hold on and don't let go. If you can't shoot, don't blame the controls but the gamer holdin' the stick. Toggle buttons on the side help too.
Once the game is won put the stick carefully away and watch NESN or fall asleep without cuddling.
Do it right and everything else will work out. As for players, aim low. Many of the "stars" have pre-wives already and the only action around are the Jed Lowries of the world. Girls get in line with the hope that these new players may one day become all-stars and then give them free stuff in lieu of contraception expenses. That's their Apollo's heel.
Ask for nothing.
Being able to sleep casually with someone famous should be payment enough and, when this refreshed player leaves the Plaza and then goes 4 for 5, you can enjoy a nice game knowing you had a hand in their success.
Also be willing to do that thing most nice girls won't do.
Good luck Tracy (and please stop trying to substitute teach at Gabriella's school).
-Curt